Our Staff


Bob Sarkala, Store Manager
Guitar, Bass Guitar, Vocals, gigging musician
Bob is truly a legend in the musical instrument retail field within Worcester County. After 26+ years helping musicians at Kurlan Music, Bob now brings that wealth of knowledge and experience to Union Music. Bob is a gifted guitarist and vocalist on the local scene (Lester Rawson Band, Ric Porter Band, Cosmic Slim and his Intergalactic Plowboys) and brings a professional caring attitude to his work with the public. A living example of the maxim "Still waters run deep", Bob is a kind and patient man, well liked and admired by all who get to know him.



Paul Provost, Sales
Piano, gigging musician, recording engineer, music teacher
Energizing our keyboard and pro audio departments, Paul is a professional musician and keyboard instructor with over 40 years experience. His talent and expertise will guarantee you will be able to understand the sometimes complicated equipment used to make music today!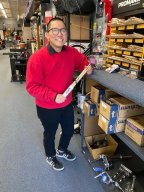 Carter Lee, Sales, Website
Percussion
Carter is a student at Clark University double majoring in Community, Youth, and Education Studies and Studio Art. Carter has been playing drums and piano since they were a kid. They primarily play drum set now, jamming with friends and gigging with the band they formed at Clark.
Kyle Champeon, Sales
Guitar, saxophone, gigging musician, music teacher

Kyle is a graduate of the Berklee College of Music, and is a talented musician and teacher. He works part-time at Union Music during the week helping customers choose the right instrument, and performs with a variety of groups.




Keith T., Sales
Guitar, drums
Keith spends time working the sales floor on Friday and Saturday. He enjoys psychedelic music and heavy metal; grew up playing guitar and is a drum hobbyist. Keith has spent most of his life working retail and takes pride in selling music gear.
TJ Peavey, Open Mic Host
Guitar, ukulele, gigging musician
TJ is a long, long, long time Union Music employee, a ukulele expert and music lover. You can join him for Open Mic on the first Saturday of every month, held here at Union Music.