Our Staff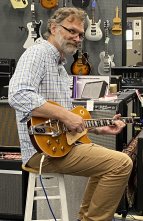 Bob Sarkala, Store Manager
Guitar, Bass Guitar, Vocals, gigging musician
Bob is truly a legend in the musical instrument retail field within Worcester County. After 26+ years helping musicians at Kurlan Music, Bob now brings that wealth of knowledge and experience to Union Music. Bob is a gifted guitarist and vocalist on the local scene (Lester Rawson Band, Ric Porter Band, Cosmic Slim and his Intergalactic Plowboys) and brings a professional caring attitude to his work with the public. A living example of the maxim "Still waters run deep", Bob is a kind and patient man, well liked and admired by all who get to know him.



Paul Provost, Sales
Piano, gigging musician, recording engineer, music teacher
Energizing our keyboard and pro audio departments, Paul is a professional musician and keyboard instructor with over 40 years experience. His talent and expertise will guarantee you will be able to understand the sometimes complicated equipment used to make music today!






Bill Roy, Sales
Guitar, ukulele, harmonica, gigging musician, music teacher

Bill works in the store on Wednesdays, providing expert assistance on a wide variety of instruments. He has been playing guitar and performing locally for 40 years. Bill loves teaching the basics of playing guitar just as much as digging into your favorite songs.
Ethan Anderson, Sales
Guitar, bass guitar, gigging musician

Ethan has been playing guitar and gigging since 2012. He has played in several punk and garage rock bands as a lead guitarist, rhythm guitarist, and bassist. He has worked in customer service for the past few years, and enjoys making the customer as comfortable as possible while making sure they can find what they need in order to express themselves musically.
.
Keith T., Sales
Guitar, drums
Keith spends time working the sales floor on Friday and Saturday. He enjoys psychedelic music and heavy metal; grew up playing guitar and is a drum hobbyist. Keith has spent most of his life working retail and takes pride in selling music gear.